In route to Kanab, UT to stage for my upcoming trip to hike the Wave, I was driving along US Highway 160 after turning Westward off of Arizona Highway 59.  Coming into Church Valley the Cumulus clouds were bountiful and the light shining upon Church Rock was portraying its impressive dominate stature.  I knew that I had to stop and try to capture this splendor.   I first stopped immediately on the North side of the 59-160 intersection where there is a gravel parking area.  However the frame up and distance from Church Rock wasn't suitable.  So I drove slowly Westward along Highway 160 till I could frame Agatha Peak and adjacent hilltops in the background to the right of Church Rock to frame up this shot.
Church Rock is part of the Navajo Nation, so I stayed on the public road side of the fence line, even though when you go a bit further West on Highway 160 there is a break in the fence line and an unapproved road that you can drive to the immediate side of this feature.   
What compelled me to want to take this image is another example of a volcanic neck dark igneous rock often referred to a minette rock that made up Church Rock starkly standing in the middle of the red sandy Church valley with red sandstone ridge raising the background peaks higher.  Just like the more notable example of a monadnock, Shiprock; Church Rock and the other monadnocks in this image make up part of the Navajo volcanic field.  
This image I would classify as falling into the travel photography genre verses a landscape photograph.  I tend to make that assignment when it wasn't a planned shot, but a complying decision at the moment, which is what happened here.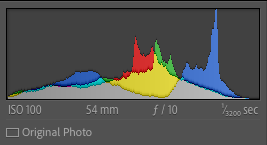 For this image with post process you can see the how the blue  tones dominate the histogram, but there wasn't any clicking on either end showing no clipping in the shadows and brightness areas of the image.   For this exposure the brightness value was 10.32 and the exposure bias -2 EV.  With the sky offering such interesting clouds, I expected the shot to be complementary colors and shown in the color wheel.  The theme extraction shows the locations used to extract the colors selected.  What both of these show is that this image is nicely exposed with most tones not being either over exposed or under exposed.
Finally, PhotoPills was used afterwards to document the composition and the settings, as shown below.