The wave entrance is a draw between the two North facing mounds that offer the beautiful backdrop seen in so many photos of the wave, yet this draw is often found with a pool of water that allows reflection of the Western mound and merging leading lines on either side of the draw and the floor.  This is a photo that was on my want list when I was planning my trip to the Wave.  It was the first photo listed in The Wave blog, which by far is the best website on The Wave.  This blog states that the entrance is best shot early in the morning an hour after sunrise when the Southwest mound is in light while the entrance walls are still within the shadows.
This shot was taken in portrait format close to the ground with the Sony A7RIII set in manual mode.  Due to the shadows and bright light having to be balanced to avoid overexposure the exposure bias was at a -1.3 EV with a brightness value of 7.04, which is why I had to bump up the ISO to 500. It also meant that I needed to use some luminosity masking to raise the exposure of the shadow walls, especially those on the left of the photo.  With a few other adjustments the final histogram ended up as shown here.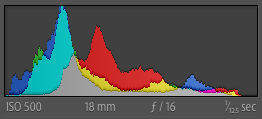 I will admit that in post-processing I used some content-aware fill to remove some debris that collects at the water edge.  Other than that, the majority of the processing was on balancing the contrast.
My plan before starting the hike was to frame this shot in portrait mode to capture both the Southeast mound in full in the background and in the reflection.  Since the sky was included in the composition, I knew going in that my color harmony theme wouldn't achieve a true analogous color.  However, if you look at the color wheel you will notice that for the most part, the color is mostly analogous, and only a small portion of a dominant sandstone line was highly saturated.
Unfortunately, a close look at the image shows a softening in the far background, which meant that I should have opened the f stop and focused stacked.
Finally, PhotoPills was used to frame this composition, and the settings are shown below.  Note that the focal length isn't 18mm because the camera was framing the shot in portrait mode.