I am enamored with the Southwest landscape, but live in Eastern Kansas, the town of Leavenworth to be exact.  This of course meant, if I wanted to photograph that spectacular Southwest scenery, it would entail a 2,000 miles plus roundtrip excursion.   Realizing that a trip to those scenic sites wasn't close by to allow me to just grab my gear anytime I wanted and head out to shoot whenever situations offered the optimum conditions.  Instead, it was going to require some research and planning to return with some memorable images.  To help yield a memorable trip the following tools have proven very useful with the research and planning.  What I like most about the tools I am about to discuss is that they are for the most part device independent and every where present, meaning you can develop the information on a computer and then refer to it on your smartphone, even at a site as as it has phone service.
Google maps offers mapping services the majority of us count on daily to get about or find a location.  What most of us don't know is that Google allows account members the capability to make their own maps, embedding grid locations, tying pictures and information to those tagged grid points, and linking upload grid points to routes that can either be created or loaded routing files from Google Earth or other route tracking apps like GAIA GPS or AllTrails.  Besides using it to plan a one or multiple location trip, I also use it to plan out my shooting options at a specific location as illustrated in the featured image shown at the top of this post and available at the link.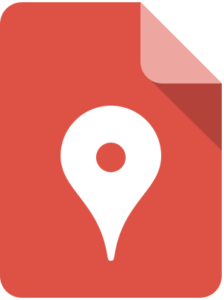 The Wave  Shooting Plan
For readers of this post and new to working with Google My Maps, what follows are some simple instructions on how you can access these maps on their Google Maps device's.
On your computer, click on the HAMBURGER menu, then click on the submenu titled "Your places", concluding by clicking on the farthest right menu item "Maps".


 Smartphone users using Google Maps app merely tap on the Saved menu, then scroll down to the bottom to tap on  the submenu to Maps.
For those that are new to Google My Maps here is an excellent article on how to use it to plan a trip, along with a nice YouTube VLOG that does the same.

How to Plan a Trip with Google My Maps – Full Tutorial

 Google My Maps Tutorial For Beginners
OneNote is my go to tool I use while I research places that could offer photographic interest.  It is an application that allows input from a variety of content.  This ability to input a variety of different content helps to capture content as I discover it through my internet searches.  Content added to OneNote can be synched across devices and made available offline, which makes it the perfect tool for a photographer who will often find themselves outside of cell signal.  To assist OneNote beginners, Microsoft Support offers this really nice and easy to follow
Quick Start Guide
 that starts with how to create your first notebook, takes notes, share your information, stay organize, and covers using the mobile apps.  Microsoft Support also offered a handy
PDF
version.  Readers might also find that the following BLOG article offer some understanding on how to use OneNote.
While I could attempt to explain how I use OneNote to research a photography site, I happenstance on this exceptionally YouTube VLOG that truly illustrates how another photographer uses OneNote to plan photography shots.  Though my process is a bit more freeform, I believe that  
Michael Breitung
 offers a better perspective on the benefits of using OneNote to plan photography shots.

So my hopes in sharing is that readers of this post will check out these tools and find them to be useful like I have.