One of the dominate geological features found in the Sedona area is the ever popular Cathedral Rock, which is often used as a wedding photo shot backdrop and a location where numerous day hikers climb to take one or two breath taking Instagram photos from between the two pinnacles.  
In the winter of 2021, in which a storm diverted a trip to the Coyote Buttes area, I hastily drove southward to avoid the after effects of the storm that would make it impractical to negotiate safely the remote areas that I want to photograph in Coyote Buttes.  This was the primary reason for diverting to Sedona, which was to capitalize upon the fact that in Sedona there are numerous photogenic location that are easily accessible.  This of course would lessen the impact of adverse weather.  Of course this is also part of the downfall in that because these sites are so easily accessible, most locations are crowded. 
This is somewhat true for Cathedral Rock, but the good news is that it is mostly only true for those wanting the ever popular Instagram shots from between the pinnacles.  Thus leaving numerous other locations available to the landscape photographer to use for enhancing their compositional efforts.  While the main focus is on sites I took shots from, there will be mention of the others sites identified that I didn't have time to visit.  For those locations, I will reference other images and articles to provide hopefully a more comprehensive blog posting of this incredible scenic location.  The order of this article will be by locations seen as you travel the primary road from Sedona to Cathedral Rock as shown in the screen capture of the Google Maps below.  For this article after researching other blogs on the subject, I have mapped seven locations that appear to be the more popular locations for the landscape and travel photographer.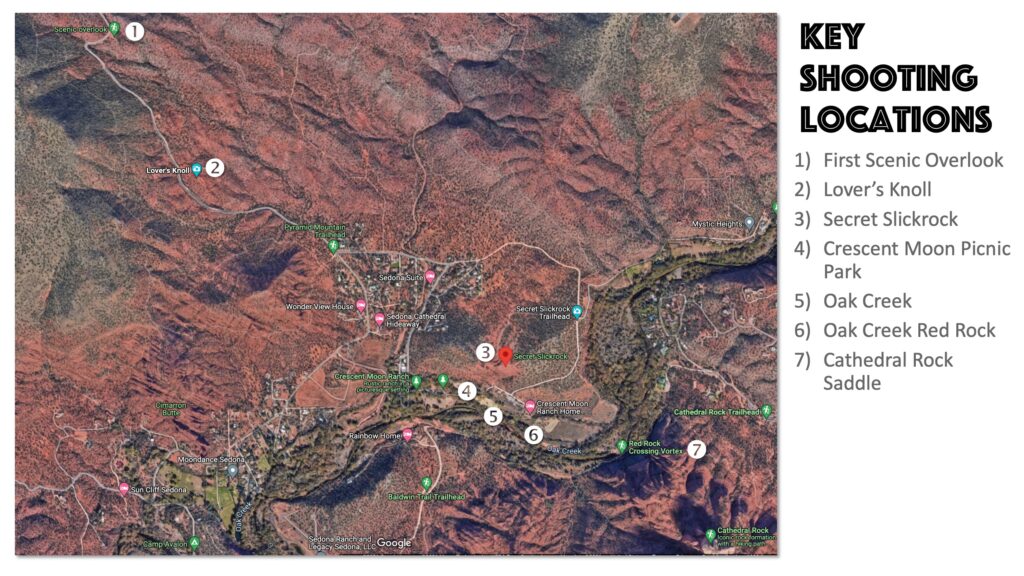 Shooting Locations to Consider 
1.  Scenic Overlook.   The first location seen along the route is merely tagged as a Scenic Overlook in Google Maps as you travel along Upper Red Rock Loop Road (Grid 4.843054, -111.8259020).  What makes this location popular is a great view with a fairly bare "Y" shaped juniper tree that you can frame Cathedral Rock between, as shown below.  This has often been a popular Instagram shot with poising someone setting in the "Y" of the tree.  However, please note that this is an ancient tree (very old) and a tree limb has already been broken off due to someone hanging and swinging off of that branch.  The key to shooting this image is to catch the West face of Cathedral Rock with late afternoon textured lighting occurring around the Golden Hour with a focal length and lens compression that keeps the background fairly definable, but allows you to compositionally place it within the "Y" of the tree. Attempting a sunrise shot would require multiple images to ensure proper lighting of the tree and West face of Cathedral Rock blending with a properly exposed sunrise.  This would be a bit more challenging, but could yield an interesting image.  Another option could be to capture a full moon moonrise in the "Y" above cathedral rock.  This of course would require some PhotoPills analysis.
2.  Lover's Knoll.  Continuing down Red Rock Loop Road, the next location to consider is the Lover's Knoll.  The reason it is called Lover's Knoll (Grid 34.836492, -111.821010) is that this location is extremely popular with wedding photographers.  In fact the day I was there chasing a felting sunset, a bride in her wedding dress and her groom were being photographed with Cathedral Rock in the background.  Below is the image of the background that is photographable at this location.  The angle here gives a nice portrayal of the pinnacles in the saddle.  The only challenge in shooting here is the foreground slope on the lower right that needs managing.  It can be reduced by raising the shot framing or also reducing the horizontal framing, which will reduce the amount of the butte to the right of the saddle.  This should is best shot as a sunset, full moon rising, or milky way.
3.  Secret Slickrock. While I miss took this location for the slick rock found along the river, this is a very popular site for the serious photographer that will require a short 0.7 mile roundtrip hike from the Secret Slickrock Trailhead found at the intersection of Chavez Ranch Road and Chavez Crossing Road.  This of course often limits the tourist working Instagram shots to the more knowledgable photographer.  Secret Slickrock (grid 34.827744, -111.803522) is a plateau that offers a horizon line above the Cathedral Rock tree line that is East of  Crescent Moon Picnic Site.  Besides having an elevation above the tree line the slick rock has depressions that pools water allowing photographers to capture reflections of Cathedral Rock as wonderfully captured by Matt Hunt from his website Huntstyle and reposted below.  [Sidenote: You should check out his images, especially those that he has posted on Instagram.]  However, this means you need to visit this site when there is water in the depressions or you need to hike in with your own water should you want the reflection.  Winter months makes this a good time to hike to this location in that there is most likely water that hasn't evaporated.  This site is also good location to frame a milky way shot.  A good YouTube vlog on this location is Cathedral Rock |Quick Trips Photography Adventures in Sedona Arizona 2019 vlog.
4.  Crescent Moon Picnic Site.  This is where Red Rock Crossing Road leads to.  It is adjacent to Crescent Moon Ranch and Oak Creek.  Crescent Moon Picnic Site (Grid 34.825907, -111.804320) is a fee based park ($11) that internet blogs report as the best location to capture a photograph of the Cathedral Rock (see Earth Trekkers blog "How to Photograph Cathedral Rock from the Crescent Moon Picnic Site" and AZ Wonders "Best place to photograph Sedona's Cathedral Rock formation: Crescent Moon Picnic Site").  Besides offering a great view of Cathedral Rock with lovely foreground elements, you get a wonderful closer up view of the buttes and pinnacles.  This location is excellent for compressing the foreground and background allowing a photographer to compose these elements without having to rely upon a wide angle lens as illustrated in the image I took below.  It is also a really wonderful location to shot after dark because, even though the park closes at 5 PM there are provisions where you can always get out.  You just can't get back in.  As you can see from the below image, winter reveals the whiteness in the cottonwoods.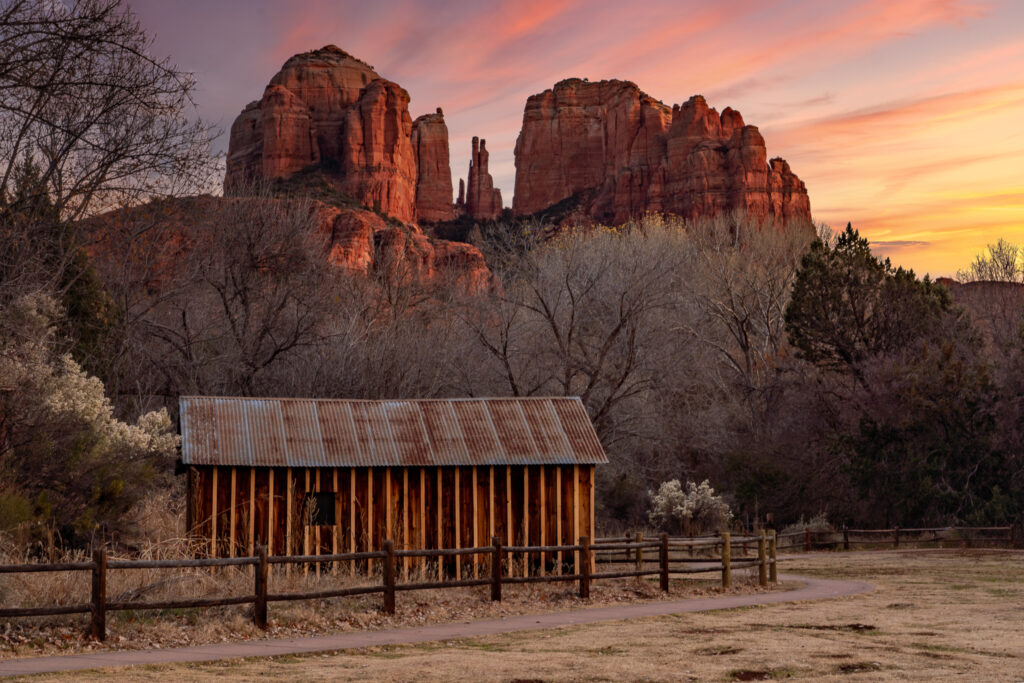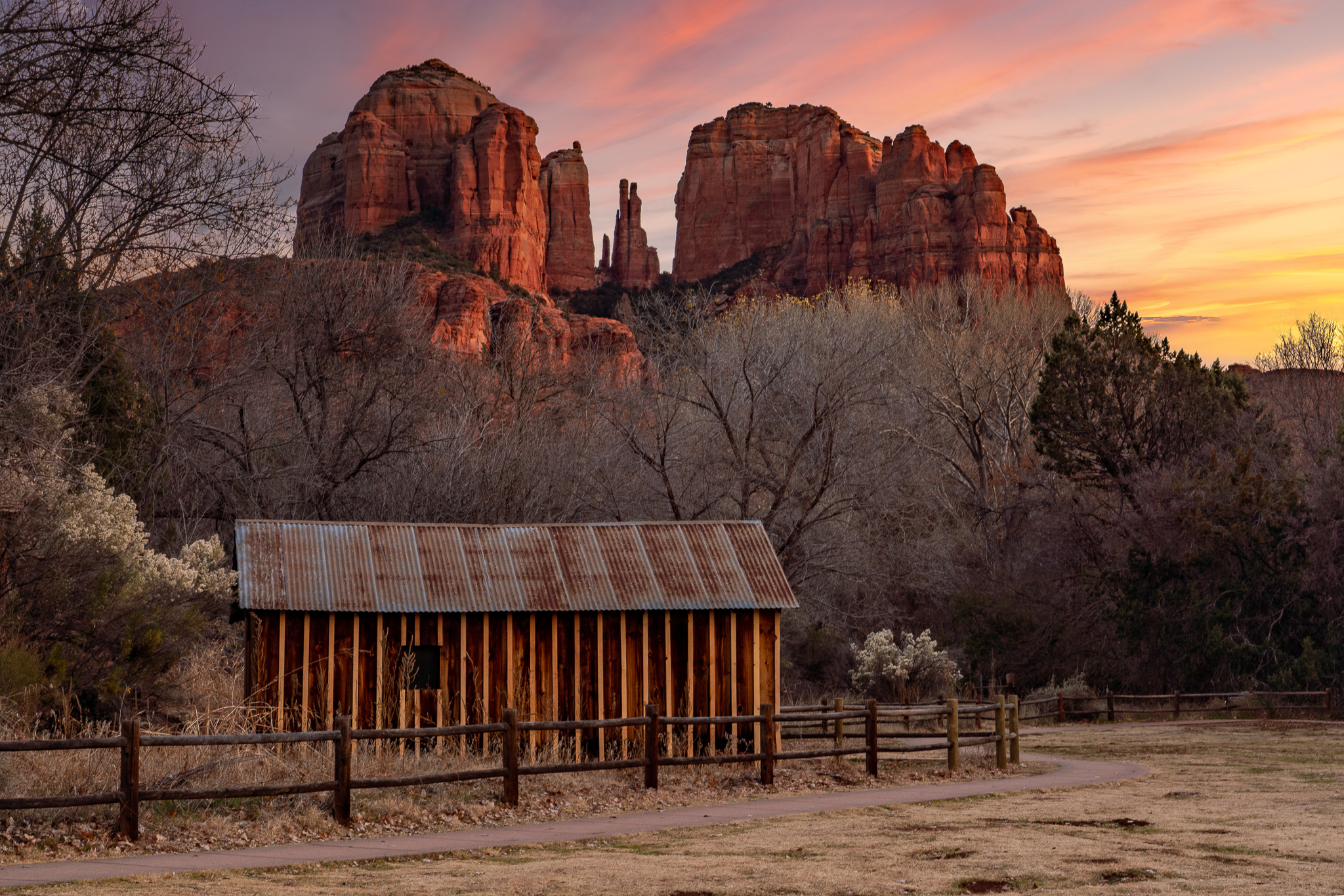 5.  Oak Creek.  Just to the South or right of the above location is a well defined walking trail that skirts eastward along the Oak Creek.  If you don't mind wading in the creek, you can get onto some slick rock that is the middle of the creek at grid 34.824705, -111.803182.  Shooting from this location offers incredible reflection options and a nice framing of the Cathedral Rock with strong leading lines as shown in the below image from an unknown contributor to the Hike Arizonawebsite.  As the image below illustrates, this site is perfect for a golden hour setting.  Since it was December, I opted not to risk wading in the water, choosing to continuing on past Oak Creek for the Oak Creek Red Rock option.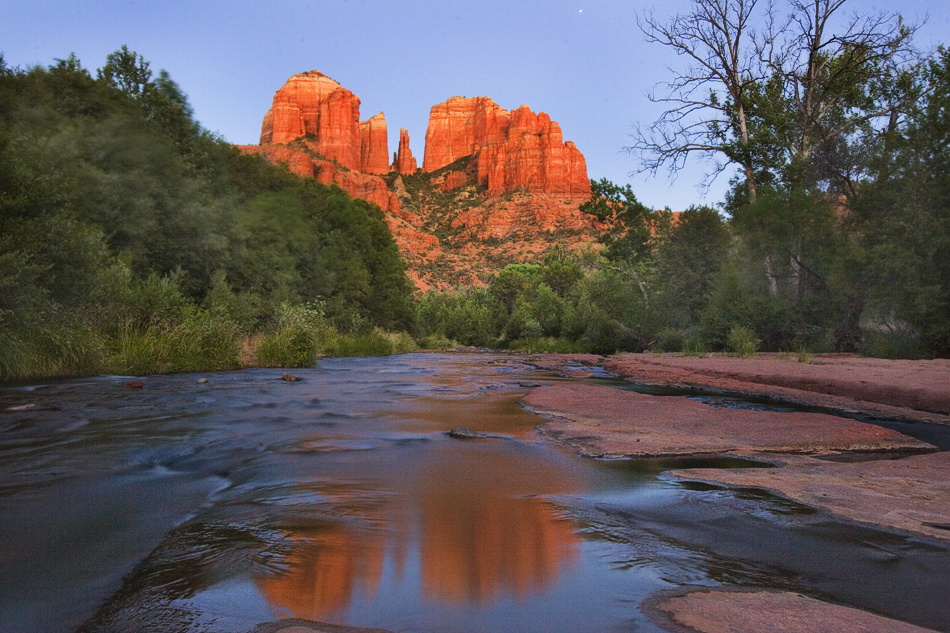 6.  Oak Creek Red Rock.  A short distance along the trail that follows the river the trail opens to a flat area of red rock that offers this beautiful opening that nicely frames Cathedral Rock as illustrate below.  Chances are that you will stumble upon a pool of water to capture a reflective scene.  However, with the creek nearby carrying a collapsable bucket could allow you to create that pool.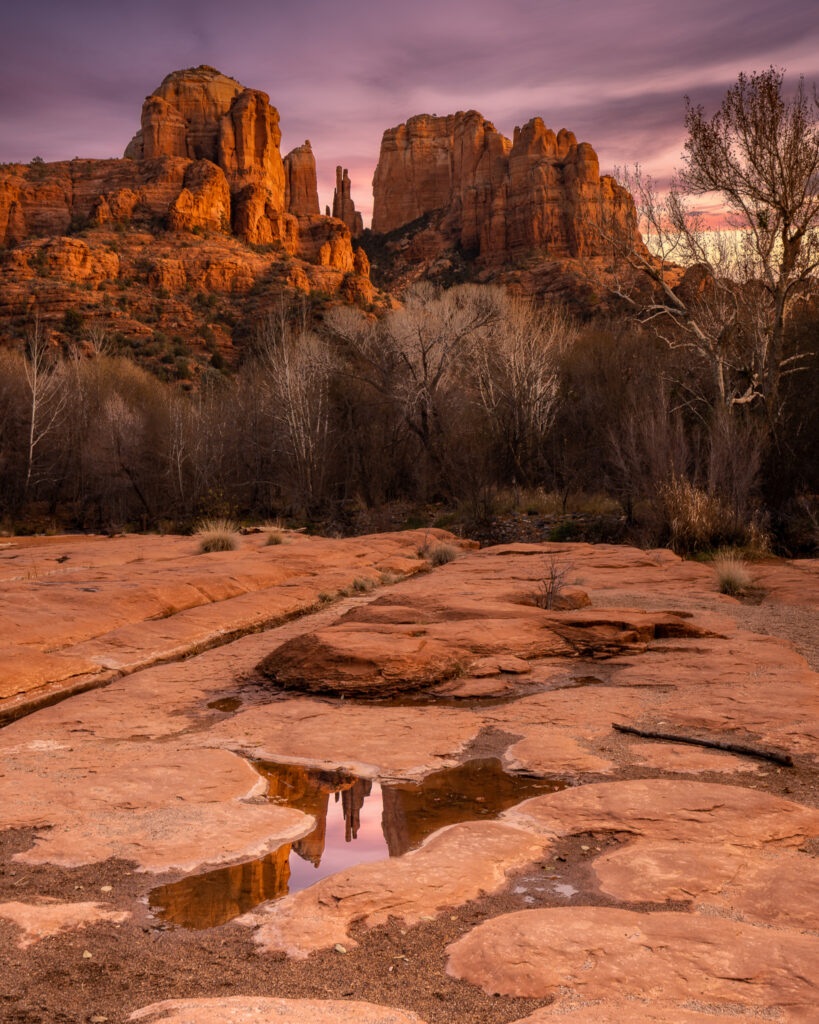 While this location would offer a best shot when you can the cut lines in the red rock offers interesting leading lines to consider in the composition of an image similar to the shot.
7.  Cathedral Rock Saddle.  The final place that is extremely popular and is a short 1.2 mile hike with an elevation of 744 ft takes you to saddle between the two buttes.  Hikes are rewarded with popular Instagram posing.
A good collaborative source is Earth Trekkers article, "How to Photograph Cathedral Rock from the Crescent Moon Picnic Site"