Situated in southeast Utah, north of Mexican Hat and east of the Valley of the Gods (see below map) is a unique landscape feature formed from over 300 million years of geological activity.  Here, you'll find that the San Juan River has carved out a series of tight turns, referred to as goosenecks, below the park's viewpoint.  This deep erosion canyon of over 1,000 feet is an entrenched meander. To add to the spectacular view found at this state park are six miles of the San Juan River tightly bending within a half mile of viewable landscape.
Compared to the overly popular Horseshoe Bend, near Page, AZ, or Dead Horse State Park's viewpoint, the uniqueness of these goosenecks is the dramatic tight compression of multiple meanders that allows you to view the twin bends at the state park's main viewing point. This affords the landscape or travel photographer a rare opportunity not found at any of the other meanders found in Arizona or Utah.
A Perfect Panoramic Place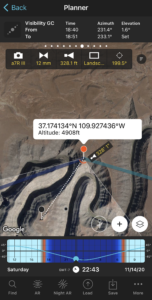 However, this rare opportunity also offers a challenge unlike those found at Horseshoe Bend or Dead Horse State Park, should your interest lies in capturing the outer canyon walls, which is beyond the typical focal length of most typical wide angle lens (see PhotoPills Screen Capture). As you can see, PhotoPills shows that even using an ultra-wide angle lens at 12mm fails, it fails to capture the breadth of the canyons. So this location gives the photographer a prime location to take a panoramic photograph.  This is one of the reasons why I wanted to visit this location.  I had been looking for an opportunity to use my Fanotec Nodal Ninja (see the below photo) and it proved invaluable as illustrated in the cover image for this post.  For this image, I made 15 pans.  Each pan was composed of three bracketed images to ensure sufficient dynamic range to splice together the pans without any color irregularities and uphold the detail in the shadows and highlights areas. While this post's cover image was taken at the edge of the observation point, visitors will note that there is a trail visible below the observation point that is accessible on the West side of the observation point following a step down off of a small rock ledge.  
A Marvelous Milky Way Location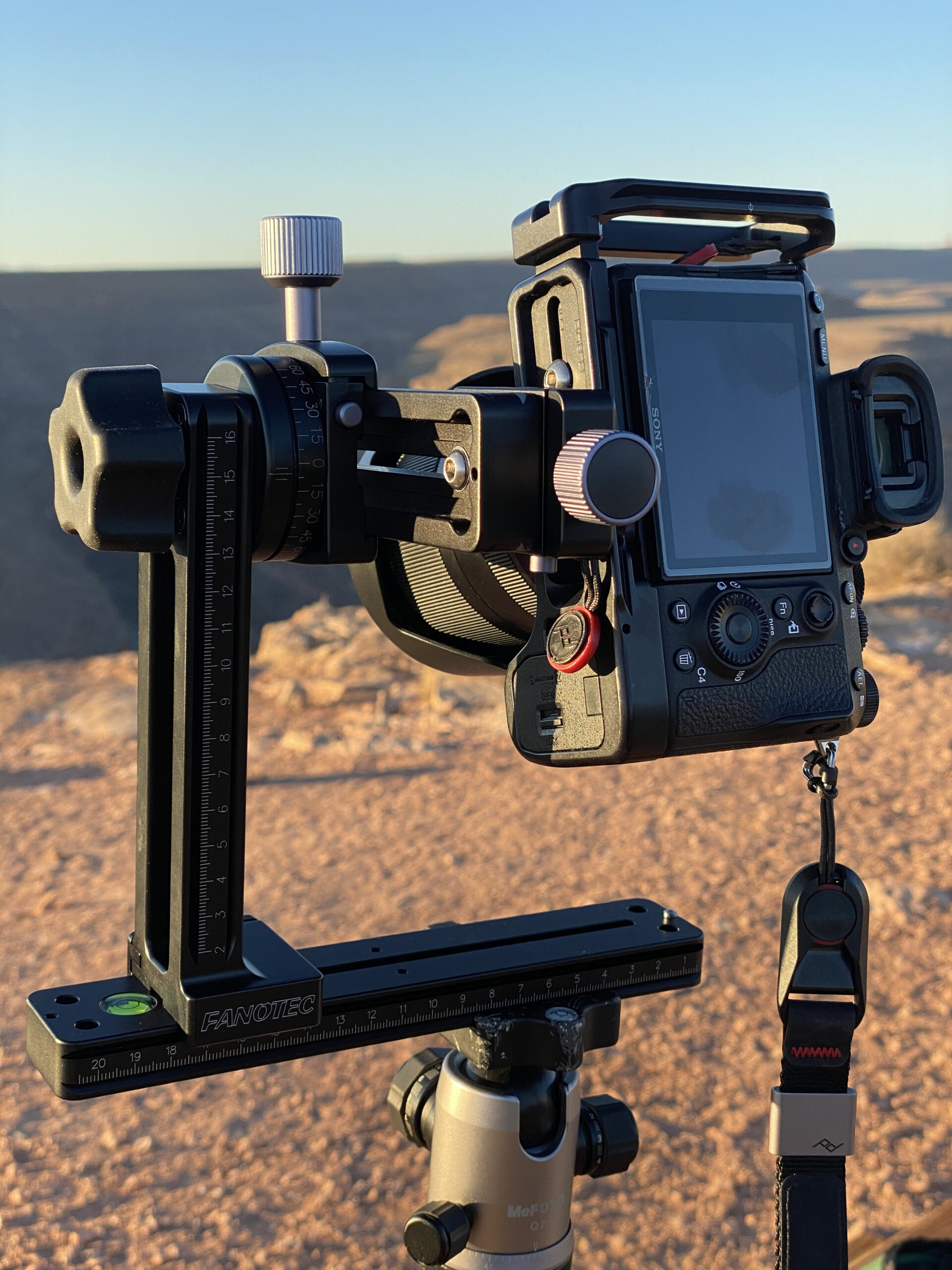 For those that have an interest in capturing the Milky Way in their pictures or to be in a location that would offer a horizon that is exceptionally suited for Milky Way photography, the good news is this is a Dark Sky location (see also DarkSiteFinder.com).  What makes it even more enticing as a great Milky Way shooting location is that in most cases you can pretty much camp right next to where you set up your tripod and camera.  PhotoPills offers one of the best resources on how to photograph the Milky Way.  Check out their web article Milky Way Photography: The Definitive Guide (2021).  And don't pass up on this free download and watch the PhotoPills video "How To Plan Your Milky Way Photography".  If this is your interest, then remember to look towards the southern skies to see the Galactic Core. The Core will start to be visible to the southeast (spring), to the south (summer), or to the southwest (fall).   Keep in mind that the Galactic Center is visible from February to October and not visible from November to January.  Using the power of PhotoPills, users can plan their visit and pinpoint a horizon arch with the Galactic Center over the center of the Goosenecks.  Wouldn't that be cool?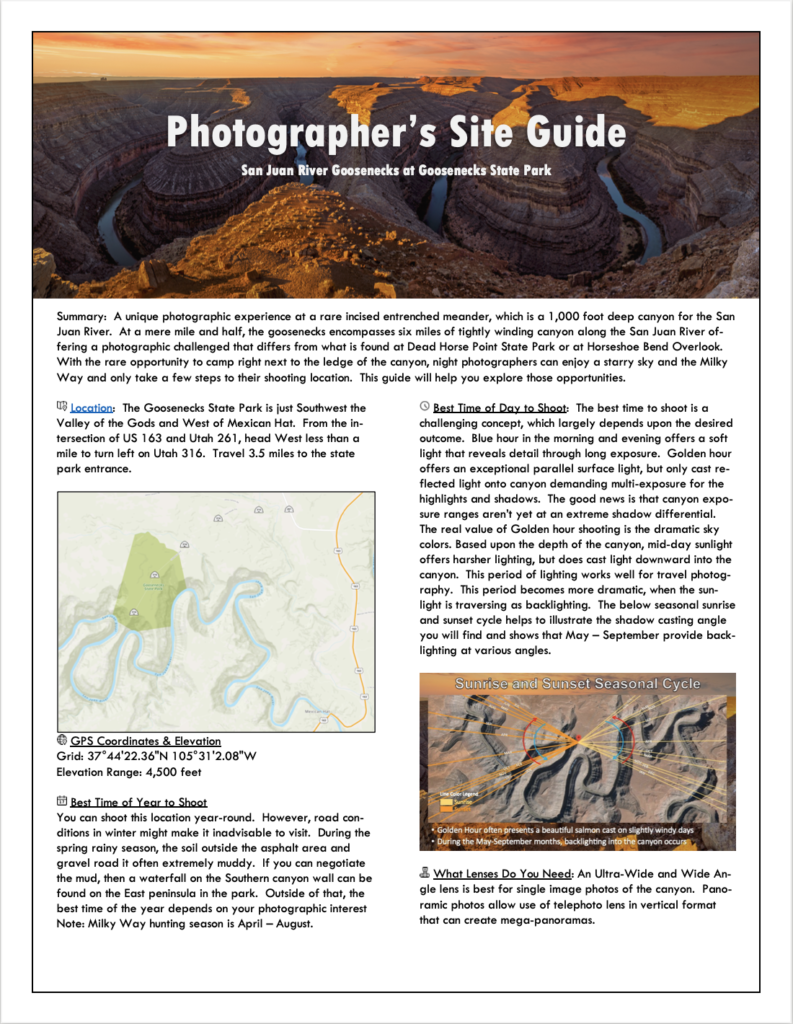 The Photographer's Site Guide-Goosenecks State Park
While this brief post is only meant to capture the key highlights of why I think you should visit this unique location.  Photographers wanting more background information should click on the attached paper that gives you more definitive information about visiting and it breakdowns your photographic options.
Remember to enjoy a nighttime photographic option on your visit, like this!